EEOC Compliance and OFCCP Compliance
Employers with 15 or more employees or those with government contracts or providing products/services to another organization with a government contract are required to keep an Applicant Log showing specific data for every job seeker/applicant. The Applicant Log must track the disposition of the job seeker/applicant through each step of the employer's selection process. The employer must be able to provide a hard copy of the Applicant Log in the format required by the EEOC or OFCCP. A quality Applicant Management System provides the functionality necessary for an employer to meet the Applicant Log requirement.
In addition to the Applicant Log, effective Applicant Management software collects and retains the data required for EEO-1 reporting, as well as all applicant information for each job opening and location of the employer in the event of an OFCCP audit. Separately, the AMS should provide the employer with the tools needed to monitor the selection process for possible discrimination.
Compare Systems
If your organization must be EEOC or OFCCP compliant, don't allow yourself to be duped into purchasing an off-the-shelf Applicant Management System that doesn't meet your needs. There are systems available that provide basic applicant tracking features, but they cannot be tailored to specifically address an employer's unique recruiting and selection process. The Applicant Logs required by the OFCCP and EEOC must reflect the employer's entire selection process and any Applicant Management software utilized by the employer must capture the exact process in its entirety.
How the CRI Applicant Management System Works
CRI specializes in web-based Applicant Management Systems designed to meet an employer's specific needs. The CRI Applicant Management System provides economy, automation, productivity enhancement and compliance in one tool. The CRI Applicant Management System acts as a data funnel for the employer's selection process: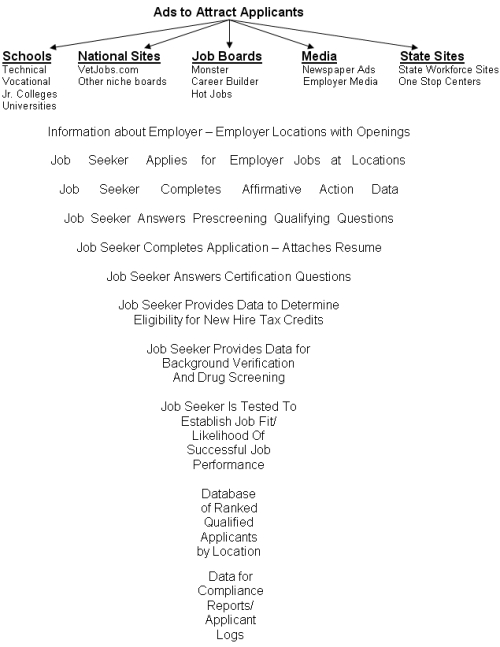 The CRI Applicant Management System yields:
A more efficient recruiting and selection process
Better quality applicants who are productive faster and tend to stay longer
Applicant data for required EEO-1 reports
Applicant Log in the required format and with all required data
Applicant data by job by location as required by OFCCP